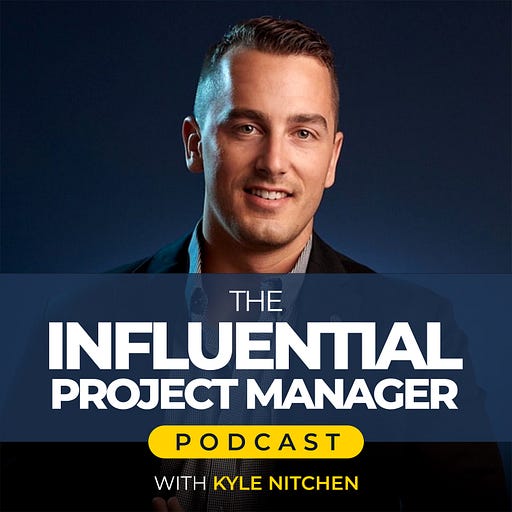 Mar 10 • 39M
iPM #07 - 22 Hacks for Young Construction Professionals | Matt Graves
Appears in this episode
Kyle is a Senior Project Manager having built $300M+ in state-of-the-art projects. In each episode, Kyle teaches the most effective leadership strategies, mental frameworks, and productivity hacks to take your projects to the next level.
In this episode, we sit down with Matt Graves, a seasoned construction professional, who shares his invaluable insights on how young professionals can thrive in the industry. With over a decade of experience in construction management, Matt has distilled his knowledge into 22 actionable hacks that can help young professionals succeed in the competitive world of construction.
From effective communication to mindsets and time management, Matt's hacks are a treasure trove of practical advice that any young professional can benefit from. Join us as we dive deep into Matt's 22 Hacks to Win as a Young Construction Professional and learn how you can accelerate your career growth in the construction industry.

Matt publishes a weekly newsletter
and daily content on LinkedIn.
22 hacks to win as a Young Construction Professional:
RTFC! (Read The F'ing Contract)

Take Notes. Your memory sucks. You will forget a lot.

Keep a To-Do list

Keep a Follow-Up on list

You will probably get yelled at. Don't take any of it personally.

Everyday you will hear something you don't know what it means. Write it down. Go Google it.

Ask for honest feedback and constructive criticism.

Actually do something with that feedback.

Talk to people from different trades and roles. Learn what they do.

Listen more than you talk.

Ask more thoughtful questions when you talk.

Never say: "I don't know how." Go figure it out.

When you commit to do something. Do it. Without having to be followed up on.

Follow Dale Carnegie rule #1: "Don't Criticize, Condemn, or Complain."

Follow Johnny Smith rule #1: "To be early is to be on time. To be on time is to be late. To be late is unacceptable."

Understand that Right, Wrong, or Indifferent. You will have to make a decision. Make it. Don't dwell.

You will make mistakes. No biggie. Just try not to make the same one twice.

Be respectful of everyone. Always. From the CEO to the Day Laborer picking up trash.

Be a contributing member of the team. Don't worry about who gets the credit.

Realize you will never "know it all." Even the 30+ years of experience guys learn something every day. Embrace it.

Its 2022. Everyone is burned out. Work with understanding and empathy.

Have Fun! We get to build some cool stuff. Enjoy it.
Read the original LinkedIn post here.
What would you add? Let us know in the comments.
Listen now on Apple, Spotify, and Substack.
---
Where to find Matt Graves:
• Twitter: https://twitter.com/YetiGraves
• LinkedIn: https://www.linkedin.com/in/matt-graves-pmp/
• Newsletter: https://constructionyeti.substack.com/archive
• Podcast: https://constructionyeti.substack.com/podcast
Where to find Kyle:
• Newsletter: https://kylenitchen.substack.com/archive
• Twitter: https://twitter.com/kylenitch
• LinkedIn: https://www.linkedin.com/in/kylenitchen/
---
Thanks for listening! Want to work together?
—
📣 Want your product or service featured in this newsletter?
The Influential Project Manager is one of the fastest growing newsletters in the built environment with 2,000+ readers. Learn more about sponsoring the newsletter here.
☎ 1-on-1 Coaching
Are you interested in diving deeper into a particular topic or strategy? Book time with me for a 1:1 coaching or strategy session. If interested, please book a time here.
📧 Share the Influential Project Manager
If you enjoyed today's episode, don't forget to share it with your company, friends, colleagues, or team members.
---
The Influential Project Manager is a reader-supported publication. To receive new posts and support my work, consider becoming a free or paid subscriber.